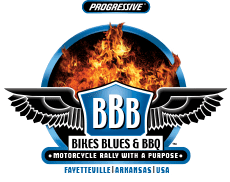 The 2016 Bikes Blues and BBQ Motorcycle Rally has come and gone, and by all accounts, we all had a good time.  A lot of you experienced the roads of the Ozarks for the first time, and we are confident that you'll be back.  For those of you who are old hands at the rally, we provided some new stuff, like the four-day Monster Experience at Arvest Ball Park in Springdale.
We paid the bills and set aside a little seed money to keep the organization going through the winter, and then on the evening of Dec. 6, ALL remaining profits were donated to various local charities.   This year, just under a quarter-million dollars was realized by local charities, bringing the rally total for its 17 yards of existence to over $1.5 million, again all to out local charities.  Thanks to your attendance, that number will increase substantially again next year.  So, thanks, indeed, and we'll see you for the 18th Bikes Blues and BBQ, Sept. 20-23, 2017.
Need legal representation? Contact Curtis | Walton Law today to get started.